In this article, I will describe some of the 5 best monitors under 15000 in India for video editing, gaming, programming, and work from home.
 These monitors provide an excellent balance of features and price, making them ideal for both personal and professional use. These monitors are sure to meet your needs, whether you're a student, a designer, or just someone looking to upgrade their setup.
We have also discussed the pros and cons of each monitor so that you can easily select the one which is best suited for your needs. Also, we have included general features of different types of monitors in general.
So, without further ado, let's take a closer look at the top 5 monitors in India under 15,000 INR.
5 Best monitors under 15000 to Buy in India
Monitors are available in different resolutions, dimensions, and aspect ratios depending on your needs and hardware requirement. So we try to cover all these aspects to help you choose the right monitor for you.
These all are the Best Monitors in India for gaming, video editing, and programming.
Some people need affordable price monitors for photo editing and some need budget gaming monitors.
Here are some of the best monitors under 15k which are available in the Indian market.
These monitors provide the best display quality with high resolutions and other features while keeping the price low.
You can buy any one of these products to enjoy your movies, and videos, and play games without any compromise on the picture quality and resolution.
1. Samsung 27 Inch (68.58 cm) FHD Curved Monitor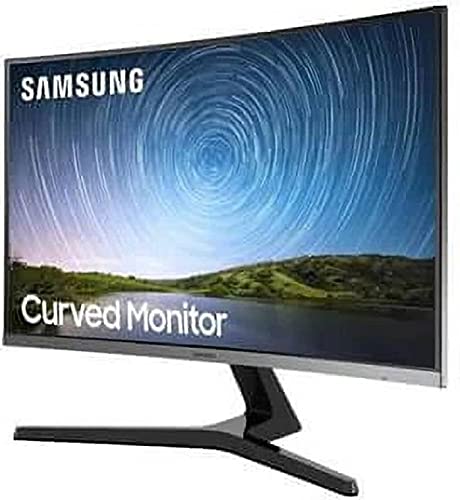 This Samsung monitor features a curved design and an ultra-wide display for brilliant gaming, watching movies, and browsing the web.
Please keep in mind that the pricing may vary with time.
The 27-inch curved display size with decent but impressive color reproduction delivers more depth than a flat screen, which helps draw you into what's on the screen.
This can be the best budget monitor for you. You can use a decent graphic card for a better visual experience in this ultrawide monitor.
In this curved monitor, Images come alive with Full HD resolution (1920 x 1080), and with a 16:9 aspect ratio, you can enjoy your favorite entertainment in rich detail. And it also offers a 178-degree wide viewing angle.
Pros
Amazing curved-screen monitor at this price range
– It has a good design with flicker-free technology
– Massive screen for watching movies or playing games with an inbuilt speaker
– wall mounting is available
Cons
Only a 60 Hz Frame rate at this price range
no height adjustment
2. Acer 21.5 Inch Full HD IPS Ultra Slim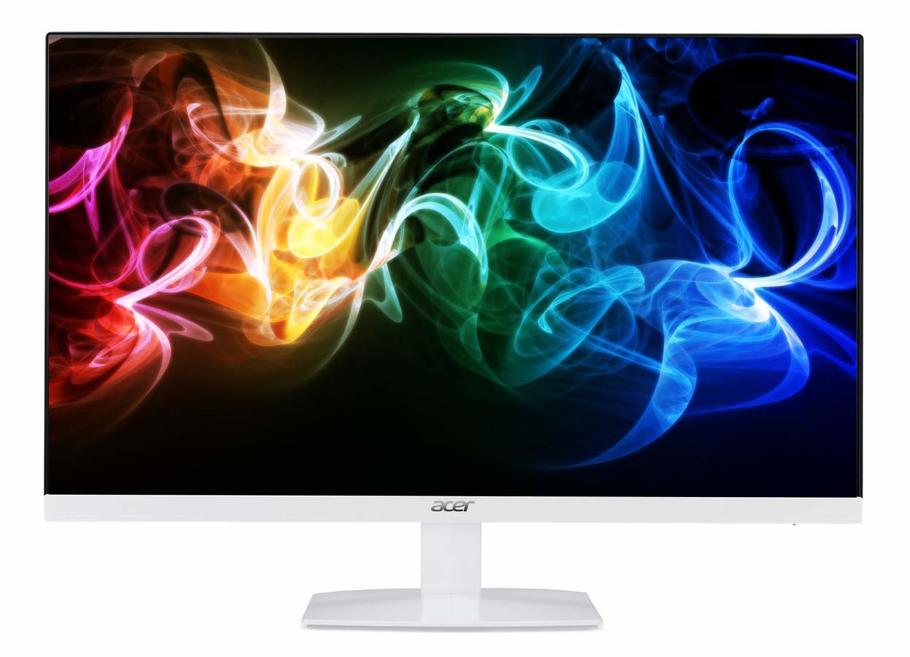 Acer is a well-known brand for manufacturing different kinds of monitors. This monitor is no exception, it comes with an IPS Ultra Slim LED Display Monitor.
It has an aspect ratio of 16:9 and features 1920 x 1080 Full HD screen resolution which allows you to view content in high definition.
The monitor has a very slim design (only 8mm) with an ultra-narrow bezel which gives you more screen space without taking up much desk space. Due to AMD Freesync, this can be a decent gaming monitor for you.
The monitor is lightweight and has a VESA interface that can be mounted on a wall or any other place at your convenience.
Pros
To give a comfortable viewing experience, there includes an eye care function with flicker-free technology.
Comes with both HDMI & VGA port connectivity with an IPS display
Integrated Stereo Speakers to provide you best multimedia experience
AMD FreeSync Technology feature with a refresh rate of 75Hz
Cons
You cant Wall mount this monitor
You need external speakers because in-built speakers are not much Loud
3. Lenovo L-Series 23.8 inch FHD IPS Ultraslim Monitor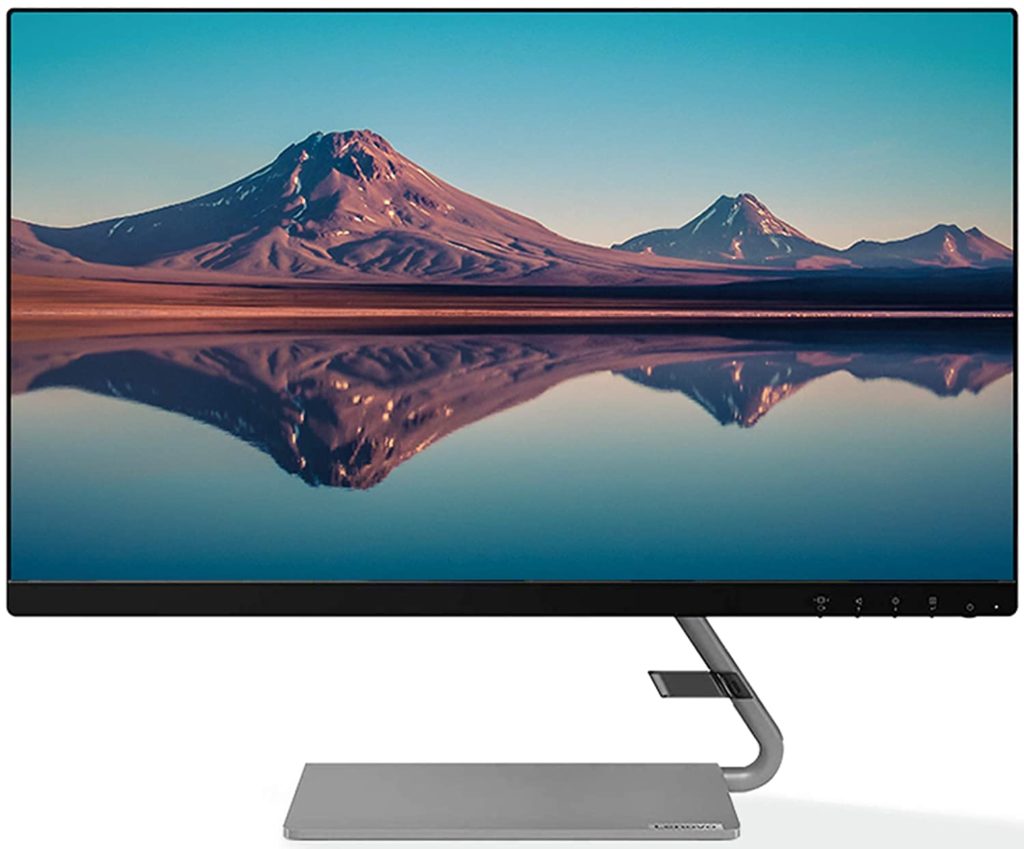 This Lenovo 24-inch monitor (Q24i-1L) has an IPS panel and LED panel display with an aspect ratio of 16:9 and 1920 x 1080 Full HD Display resolution. The monitor has a 178-degree Viewable image size which provides you with vibrant visuals.
In general, specifications are 4ms (GTG) Response time, brightness – 300 cd/m², contrast ratio – 1000:1 (Typical), and Dynamic Contrast Ratio of 10,000,000:1 (Max).
It also has both HDMI & Vga ports and a tilt stand to adjust the viewing angle according to your convenience.
It's great for viewing movies, playing video games, and basic photo editing. Hence it is one of the best monitors that you can get.
Pros
It has a better design than other monitors on the market.
IPS display panel with dual built-in speakers to enhance your experience
Comes with both HDMI and VGA connectivity options
75 Hz refresh rate with an AMD free sync technology to maximize your gaming experience
Cons
This monitor cannot be mounted on the wall.
4. AOC 22B2H 21.5″ Ultra Slim Monitor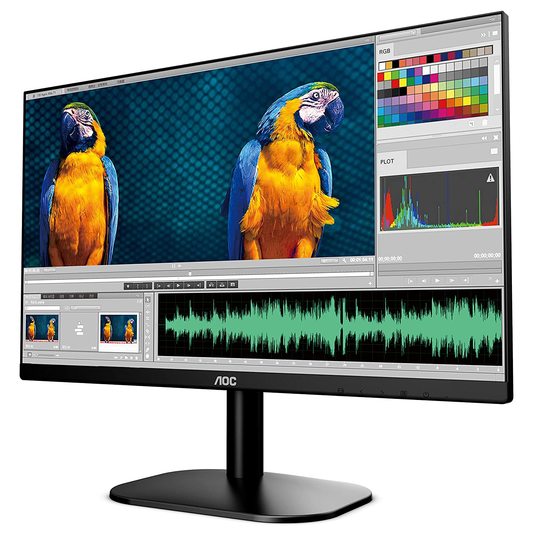 This AOC monitor has a 21.5-inch screen size with an aspect ratio of 16:9 and 1920 x 1080 Full HD resolution which gives you brilliant level picture details.
The monitor has an IPS Panel technology that ensures accurate color consistency at all viewing angles without any color shifts giving you comfort while working for long hours on it.
It also has a VESA interface which allows users to mount it on the wall.
This is the best display at this price point. Aside from being modern and appealing, frameless designs allow for seamless multi-monitor installations. Plus it has gaming features like AMD freesync.
So let's check out some noticeable features of this monitor
Pros
Anti-glare display along with extra features like blue light filter
VESA wall mount with adjustable stand
Sleek design with full HD and Flicker-free display
It also 75 Hz frame rate
Cons
6.5 ms is not a quick Response Time which may not suitable for FPS gamers
only 150 -200 brightness
height adjustment not available
5. LG 21.5 inch (55cm) IPS Monitor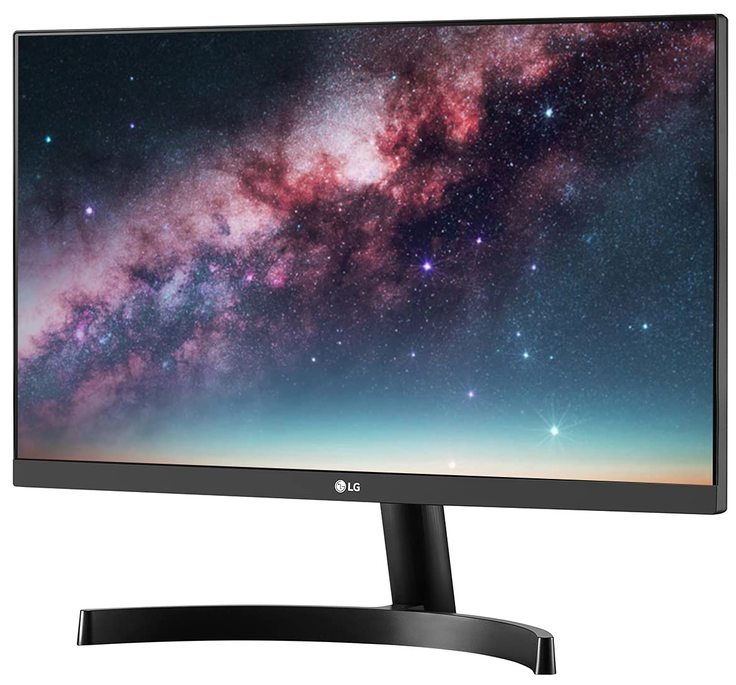 This is my personal favorite monitor. I am using this monitor to write this blog post so I know pretty much about this LG monitor. The power consumption of this monitor is very low.
It's a 22-inch LG monitor with a Full HD display and comes with all types of display ports.
The design of this monitor is so sleek that it takes very little space from your desk. It has an aspect ratio of 16:9 and provides 1920 x 1080 Full HD resolution which enables you to see high-definition media.
At this price point, this is an excellent monitor. The display is quite good, and the colors are all very bright. It supports freesync and a refresh rate of up to 75Hz. You also receive a high-quality HDMI cable along with this monitor.
It better monitor for gaming and also comes with a built-in headphone port.
This is a budget-friendly monitor so you can save your money on buying a better graphics card
Now let's check out some pros and cons of this LG monitor
Pros
It has an IPS panel display with 2 HDMI ports and 1 VGA display port
Up to 75Hz refresh rate with Radeon freesync to enhance your gaming experience
Different picture modes for gaming mode, reader mode, cinema mode, etc
Lightweight, Sleek design, and wall-mountable
Cons
No low bright even at 0% it looks very bright
Height is not adjustable
Best monitor Buying Guide-
A monitor is what most people will consider when buying a system for their home/office use. It acts as a secondary display by connecting to the computer with a cable or wirelessly through Bluetooth or Wi-Fi connection.
To choose the best monitor you need to understand the following terms–
Display Panel- There are mainly three types of display panels used in the monitor
– Twisted Nematic(TN)
– Vertical Alignment (VA)
– In-Plane Switching (IPS).
Here TN is the least expensive but has the worst color reproduction. VA is more expensive with better color reproduction than TN or IPS.
IPS panels are very expensive and have the best color reproduction among all three. Resolution- Higher resolution provides more screen real estate to work, it also shows small text better for reading documents.
Refresh Rate – It measures how often the monitor redraws an image on screen per second.
Generally, a 60Hz refresh rate is usually sufficient for daily use. More the refresh rate the more smooth your gaming experience will be.
Response Time – This tells you how fast pixels can change their colors in millisecond unit time.
In easy language, it means how much time will take to respond to your input. The lower the response time, the smoother your gaming experience will be.
Input Ports – They are almost the same as computer ports and you need to make sure that your monitor's input port is compatible with your desktop or laptop.
For example, you brought a monitor that has only VGA ports but your CPU support Only HDMI connectivity. So, in this case, you have compatibility issues.
In this case, you need to buy a VGA to HDMI cable which needs extra money.
For better compatibility, you need to go for a monitor with both VGA and HDMI support.
There is also the third type of connectivity DVI but it is rarely used.
Contrast Ratio- Yes, you should also consider the contrast ratio of the monitor.
The contrast ratio gives you an idea of how good is a monitor in providing black pixels on the screen. The higher the contrast ratio, the wider the dynamic range of blacks will be provided on your display.
The higher the contrast ratio, the richer colors your monitor will produce.
Height Adjustable Stand and Wall mounting–
Some people need an adjustable stand and some just want to wall-mount their monitor but all monitor does not support these features.
So you should also check if your monitor has an adjustable stand or not.
You can adjust the height of the monitor according to your eye level comfort without putting in much effort. It helps in preventing eye fatigue.
Anti-Reflection Screen Coating and Anti Glare-
Not, all the monitors have a screen coating which helps in preventing reflections from the lighting.
Anti-glare coatings are costlier than plain matte coatings but provide better clarity without compromising the color quality of your monitor screen.
If you use your monitor in a room where any type of light is directly falling on your display then you need a monitor with an anti-glare coating.
So, you need to choose a coating that fits your budget and gives you maximum performance depending on how much time you spend in front of your desktop.
AMD Freesync And G-Sync –
Many people don't know what is and freesync means and what is the difference between freesync and g-sync.
AMD freesync is an adaptive synchronization technology that allows a dynamic refresh rate to provide a stutter-free experience.
G-Sync is not open source and is compatible with Nvidia GPUs only. It charges extra bucks for every monitor that you buy with G-sync support.
They both improve your gaming experience by improving frame rates without any disruptions.
In general AMD Freesync Improves your gaming experience by reducing tearing and stuttering.
Conclusion
So, here are the 5 Best Monitors under 15000 Rupees that are available in India.
Whether you are looking for a new monitor to replace your old one, or simply want another screen in the room; we have put together some of the best PC monitors in India.
A good monitor can be the difference between enjoying your computer experience or being frustrated by it.
So, If you use your computer in any significant capacity, it's essential to have a good monitor. That's why We have collected some of the best products in India for you.
I hope you found this post helpful and if so, please share it with your friends.
Also Checkout
Frequently Asked Questions
Q.1 Which is the best 4k monitor under 15000 in India?
Ans: If you're looking for a 4k monitor under 15,000, you're probably looking for one with good color accuracy, a high contrast ratio, and a wide viewing angle. But I couldn't find a 4k monitor for less than 15,000. If you have more money to spend, choose the 
BenQ 31.5 inch(80.01 cm) Gaming Monitor
Q.2 Which is the best budget gaming monitor?
Ans: In my opinion, This Lenovo 24-inch monitor (Q24i-1L) is the best gaming monitor for this budget. The monitor has a 24-inch display and a 1920 X 1080p resolution with a high refresh rate of 75Hz and a response time of 4ms.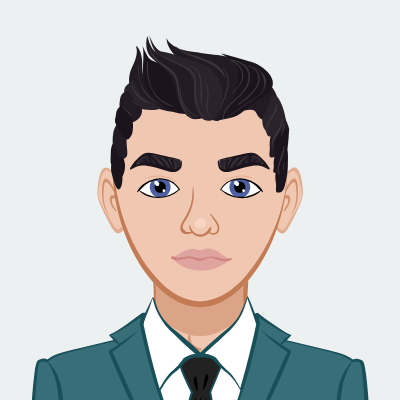 Hello everyone, I am currently an engineering student who loves to write about the latest technology, gadgets, and reviews.