Today, we will show you how to switch from the Facebook Basic Mode to the Facebook Basic Version on Android or iPhone devices.
As we all know, Facebook is a globally recognized social media platform with over a billion active users. Facebook is very popular nowadays, and people use it almost every day.
Throughout the years, Facebook has received many significant updates, like dark mode, and has become more complicated, sometimes confusing new users who want to make their own Facebook.
That's why Facebook has two versions for users: the first is the standard version, which most people use, and the second version is called the basic Facebook version.
So, if you don't like the regular mode of Facebook, which has high data consumption, you can easily switch to the basic version. This article will help you switch to the basic version of Facebook. So, let's start with
What is the basic Mode of Facebook?
The Basic Facebook Version is a pared-down version of the popular social networking site, with fewer pictures and reduced bandwidth use. In contrast, the newest version of Facebook consumes more data because it displays high-quality photos and auto-plays movies of more excellent resolution.
So, individual Facebook users can pick whatever version they want; thus, you may switch from the default regular version to the basic version and return to the standard version at any time.
Why do people use the Basic version of Facebook?
Friends, now there will be a question about the benefit of using this version. Then, friends, let me tell you that 40 to 60% of people like this basic version of Facebook.
If you have less RAM in your phone, you will like this version because it does not load much and does not use as much RAM as its name suggests.
So it loads much faster. This version is best for people who have network issues in their area.
So, Scroll down to learn how to switch between these two Basic and standard Facebook versions:
Use the Facebook Lite app on your Smartphone
Installing the Facebook Lite App on your Android or iPhone is the best and easiest method to use Facebook Basic Mode.
Facebook released the Facebook Lite on the play store on 15 March 2018 which cross over 100Cr+ Downloads until now.
Below are some features of the Facebook Lite app
This basic version of Facebook uses less data and works in almost all network connections.
It also allows you to save space on your phone.
And it can also be used in 2G conditions smoothly.
It contains all the classic features of the Facebook Standard version.
And it was used as a social network to connect with and keep up with friends.
If you don't want to install any Facebook apps but still want to use the Facebook Basic version on your phone, here are some other methods you can use.
How to Switch Facebook Basic Mode on Mobile Phone
If you also decide to switch between the Basic and Standard Facebook versions, you'll only need a web browser and access to the internet. Switching to the basic version of Facebook is simple and quick.
In general, all Android and iOS web browsers support Facebook Basic. To use Facebook's basic version and log in, follow the step-by-step guide for mobile users:
First, open any type of browser on your Smartphone like Chrome, Firefox, Opera Mini, or any other internet browser
Now, open the browser, type mbasic.facebook.com in your address bar, and then search.
And you are done. Now, sign in or sign up if you don't have an account.
You can use this method to switch to the Mbasic FB mode easily. I hope this method will work for you.
How to add Facebook Basic mode to the homepage on your Android phone
Because it will make it easy for you to open Facebook mode directly from the homepage of your Smartphone.
Now to do so, open FB Basic Mode in your browser and sign in to your account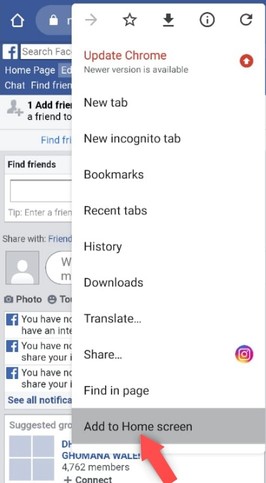 Now click on three dots in the top left corner And tap on "Add to Home Screen" as below.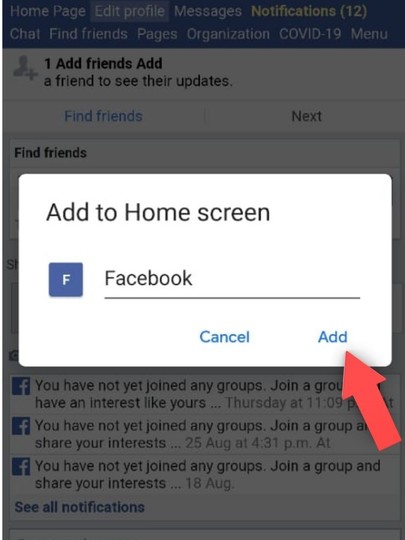 Now click on the "Add" button.
How to Switch Facebook Basic Mode on PC
Now, If you want to switch FB regular mode to FB basic version on your PC, so then you will need to follow the listed steps –
These steps are quite similar to using Fb mode on mobile
Turn on your PC and open any browser you want to use Facebook Basic Version.
Similar to mobile, Enter mbasic.facebook.com on the address bar of your desktop.

Press ENTER, and now you are on the basic mode of Facebook
To bookmark Facebook Basic Version, click the "Star" button on the address bar.
Video Guide: Basic Facebook (MBASIC): How To Switch To Facebook's Basic Version
Ending
We hope that our article How To Switch to Facebook was helpful to you.
In the end, I just want to say that if your area has network issues or you don't like Facebook's standard version, then you can use the basic version of Facebook. And even if you want to save your data and increase Facebook speed, Facebook Basic Mode is your best option.
I hope you will like today's article, and if you like your post, share it with your friends.
Check our other articles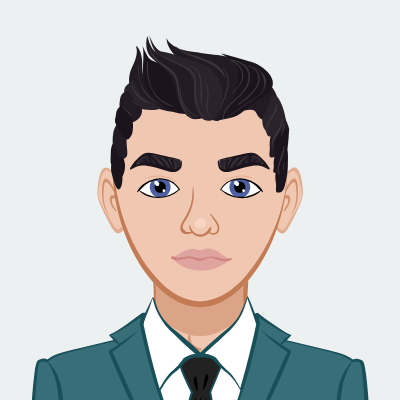 Hello everyone, I am currently an engineering student who loves to write about the latest technology, gadgets, and reviews.