This blog will provide you with a list of the 5 Latest Boat Airdopes Earbuds available online. These are all the latest versions of earphones that are a must-have for every music lover.
These wireless earphones are super easy to carry and are available at some of the best prices. You can also choose your favorite color for your latest boat airdopes from a variety of colors.
All of the Boat headphones and earphones are available for purchase on e-commerce websites. These items are also available for purchase on the boat's official website.
The latest Boat Airdopes earbuds in India are listed here.
1. BoAt Airdopes 621 Bluetooth Earbuds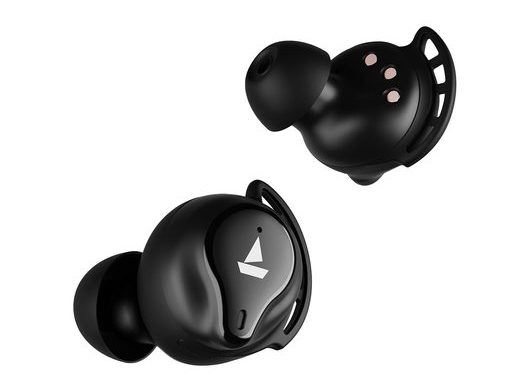 The boAt Airdopes 621 is a pair of truly wireless earbuds with Bluetooth V5.0. It is designed to deliver good-quality audio for listening to music and making calls.
Featuring a tangle-free cable and CVC noise-canceling technology, the earbuds provide crystal clear and distortion-free voice. It has a battery range of 5 hours and 30 minutes from a full charge.
It comes with a portable charging case that provides you with an additional charge of 10 times. The 621 case has an inbuilt 2600mAh battery.
It is available in two colors.
The earbuds are light and small, making them comfortable and easy to carry. They are designed to allow wearing them in any ear with ease.
The Bluetooth 5.0 technology will give you a stronger, faster connection with all compatible devices, while the noise-canceling mic will prevent the outside noise from coming through your calls.
| | |
| --- | --- |
| Brand | boAt |
| Colour | Active Black |
| Connector Type | Wireless |
| Model Name | Airdopes 621 |
| Form Factor | In-Ear |
2. Airdopes 141 TWS Earbuds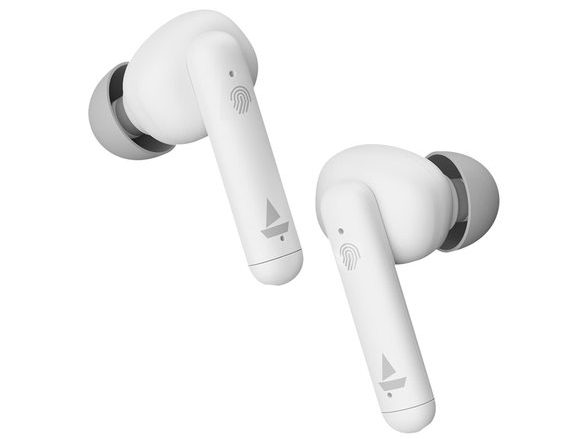 Airdopes 141 TWS Earbuds accompany you to complete your active life. It provides decent connectivity with the recent version of 5 Bluetooth.
It needs manual pairing once. Later, when you open the charging case, earbuds will pair with the connected device, thanks to the instant wake and pair technology.
It provides monstrous playback of about 42 hours in a single charge.
You can give a charge of 5 minutes and take the playtime of 72 minutes with the ASAP charge support. It comes with 8 mm drivers. It has quick response intuitive touch controls available on each earpiece.
The manual pairing is necessary once and while charging the earbuds the next time, it automatically pairs with the device. The multiple functions of these earbuds and the advantages of the 5.0 version of Bluetooth are limitless. Plus it is also available in 5 colors.
| | |
| --- | --- |
| Brand | BoAt |
| Colour | White Purity |
| Connector Type | Wireless |
| Model Name | Airdopes 141 |
| Form Factor | In-Ear |
3. BoAt Airdopes 281 Pro Earbuds
The boAt 281 pro airdopes are available in black, gold, silver, and rose gold and have 4 mics for noise cancellation.
It comes with a charging case for multiple full charges to the headphones in a week.
The boAt Airdopes support the ASAP charge which can charge them within 5 minutes to gain one hour of listening time.
It is made of super-strong yet lightweight material.
They are packed with features and benefits like the ASAP charging system, 32-hour battery backup, and the ENx noise reduction technology for a clearer sound experience.
With the thumping bass effects, you can enjoy the unique sound of the Boat.
On the charging case, there's also a quick rest button.
| | |
| --- | --- |
| Brand | BoAt |
| Colour | Blue Flame |
| Connector Type | Wireless |
| Model Name | Airdopes 281 Pro |
| Form Factor | In-Ear |
4. boAt Airdopes 441 Bluetooth in-ear Earbuds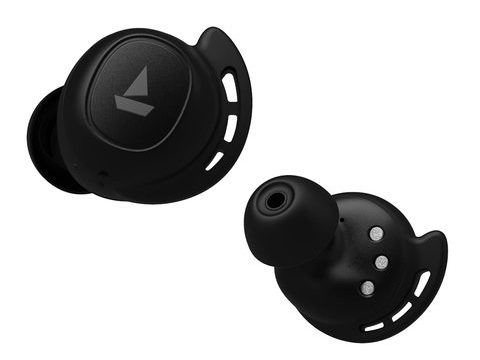 boAt Airdopes 441 Bluetooth in-ear Earbuds are the latest addition to the boat TWS Airdopes family. They have a water-resistant design that is built to withstand sweat and rainwater.
They allow you to listen to your favorite songs with deep bass and crystal-clear treble. TWS Airdopes 441 has a built-in microphone that allows you to make hands-free video calls.
It features quick-connect technology that powers on the earbuds and puts them into connection mode as soon as one opens the lid of the carry case.
This product also comes with an IPX7 rating which enables it to be resistant to water and sweat.
It has IWP (Insta Wake N' Pair) Technology, which turns on the earphones and puts them in connection mode as soon as the carry case lid is opened.
It provides users up to 5 hours of sound on a single charge. Moreover, the carry case provides an additional 25 hours of playback bliss.
| | |
| --- | --- |
| Brand | BoAt |
| Colour | Active Black Indi |
| Connector Type | Wireless |
| Model Name | Airdopes 441 |
| Form Factor | In-Ear |
5. boAt Airdopes 121v2 Bluetooth in-ear Earbuds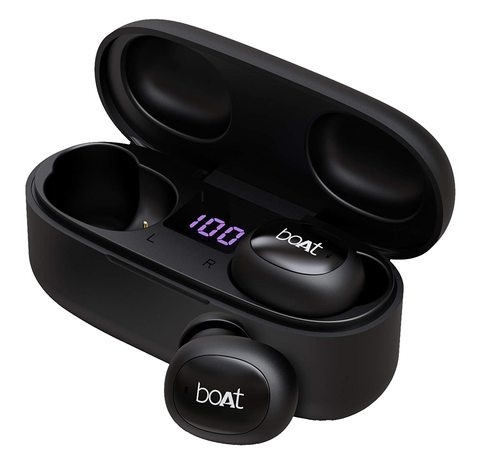 boAt Airdopes 121v2 is the perfect companion for your active life. Lightweight and ergonomic, the earbuds effortlessly fit into your ears and don't fall out even during rigorous sports and high-intensity workouts.
Long battery life keeps you going all day long, with up to 3.5 hours of playback and an additional 10 hours when you have the charging case on you.
The dual-tone finish makes these earbuds stand out, while the ear tips come in a variety of sizes to ensure you find the perfect fit, and the secure fit wingtips promise they won't fall out, no matter the activities you undertake.
The Airdopes 121v2 are ergonomically designed to fit snugly in your ears while providing a secure and comfortable fit.
With a durable, corrosion-resistant body and a 1-year warranty, Airdopes 121v2 is built to stand the test of time.
| | |
| --- | --- |
| Brand | boAt |
| Colour | Active Black |
| Connector Type | Wireless |
| Model Name | Airdopes 121v2 |
| Form Factor | In-Ear |
Conclusion
We hope you enjoyed our article on the 5 Most Recent Boat Airdopes Earbuds in India that you can purchase online.
If you are looking for the best earbuds for the boat then you will find that there are many different options available. So it may be difficult for you to choose the right and latest boat airdopes in India.
That is why we have mentioned the top 5 boat airdopes available online to choose from. So if you like our article about the latest boat airdopes latest version, share it with your friends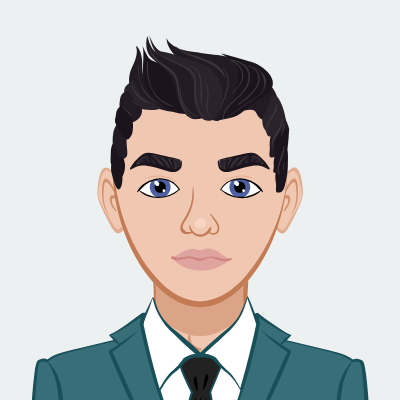 Hello everyone, I am currently an engineering student who loves to write about the latest technology, gadgets, and reviews.