In this tutorial, we'll teach you how to type in Hindi using English keyboard on Windows offline or online.
Do you use Windows to type in Hindi but have no idea how to type in Hindi on that computer? If you're searching for a means to type Hindi on a Windows device, this is for you (on laptops, computers, smartphones, etc)
There are several online programs that can help us accomplish comparable outcomes, but they are only available online and cannot be used offline. We'll use Google Input Tools on Windows to input in English and have Google Input Tools produce Hindi letters/words for us in this example. The benefit is that Google Input Tools may be used offline.
So let's begin from
What is Google Input Tools?
Google Input Tools for Windows is an input method editor that allows users to utilize a Latin (English / QWERTY) keyboard to type text in any of the supported languages.
This tool makes it simple to write text in any supported Indian Language, regional or otherwise. Transliteration, IME, and on-screen keyboards are examples of input tools.
You can input letters/words in English in a regional format, and this program will translate them to the appropriate native language.
How to Try Google Input Tools online for Type in Hindi Using English Keyboard
You can utilize Google Transliteration/Google Input Tools by Google inc. if you have an internet connection when typing.
Search Google Input Tools Online in Google search Box or Just open Try Google Input Tools by clicking.
You'll see a window where you may choose the Regional Language from the Language Options in which the final text should be displayed.
For example, in our situation, we select, "Hindi." from the Language Bar.
Now, let's write "How are you?".
This is the way I will write it in the Phonetic form with English characters "Aap Kaise hain?". As demonstrated below, IME transforms it into a native format.
As a popup, it also displays word recommendations. From the Input Indicator, you can select the actual word.
Google Input tools also provide us with Virtual Keyboard and voice typing.
आप कैसे हैं
As shown in the below screenshot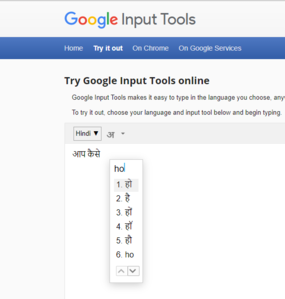 Offline translation of English to Hindi using Google Hindi Input Tools
To convert English to Hindi using Google Input Tools Offline, download and install Google Hindi Input Tools on your computer for a more pleasant experience. Google Hindi Input Tools may be downloaded by clicking here. You can also install its Chrome extension.
Using Google Hindi Input Tools Offline:
On Windows 8/10:
After you've installed Google Hindi Input Tools Offline –
In the taskbar's right-hand corner, beneath Date/Time, click the Language preferences icon.
If you've set your computer to use English as your preferred language, it'll be ENG by default.
Go to Hindi and choose it (Google Input Tools)
To test, use a text editor like Notepad or Microsoft Word.
You should see Hindi characters replacing the English letters as you type on your keyboard.
Uninstall Google Hindi Input Tool
Google Input Tool can be uninstalled from the Control Panel and also from settings in the window 10 Uninstall program.
To uninstall Google Input Tool from the control panel, follow these steps:
Select the "Start" option from the menu.
Select "Control Panel" and then go to Add or Remove Program.
Select "Google Input Tools" from the application list and click on the "Change/Remove" option.
Now Click "Yes" in the "Uninstall Google Input Tools" dialogue box.
To have the changes take effect, you must restart the computer.
And for To uninstall Google Input Tool from settings in Windows 10, follow these steps:
Click on the "Start" menu.
Now click on "Settings" and then go to"Apps".
Now just find Google Input Tool and tap on it.
Now you will see two options Modify and Uninstall.
Just click on uninstall and accept other options and You are done.
Conclusion
To text in Hindi, you don't even need to change your keyboard. The English keyboard has all of the major keys.
To change the default keyboard layout to Hindi, you can simply use the Google Input Tool as shown in the post. Here is one more tip you can also use Hindi Speech to Text by google.
If you want to know anything other about How do I type in Hindi? Comment down your doubts and we will answer or write a separate article on that topic.
We hope you found our post on How to Type in Hindi Using an English Keyboard on pc offline useful. Please share this article with your friends if it is useful to you.
Other articles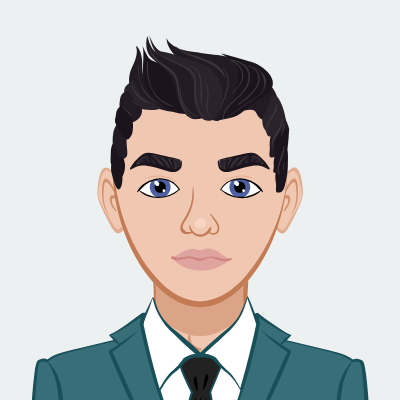 Hello everyone, I am currently an engineering student who loves to write about the latest technology, gadgets, and reviews.