We'll show you the Best RGB gaming cabinets under 3000 Rs in India 2022 for your gaming PC setup today.
RGB light is a popular choice for gamers and enthusiasts alike owing to its ability to create incredible hues and brightness. RGB light is often used with various customizations and gamer accessories.
Upgrading a PC cabinet with RGB lights is a good idea as it creates a unique look, but an RGB PC cabinet requires specific parts.
Best RGB Gaming cabinets under 3000 list-
RGB PC cabinet is a special computer case that is designed to emit lights for gamers. An increasing number of gamers prefer to use this type of computer case because it is more attractive and outstanding than the traditional computer case.
1. CHIPTRONEX MX5 RGB Mid Tower ATX Cabinet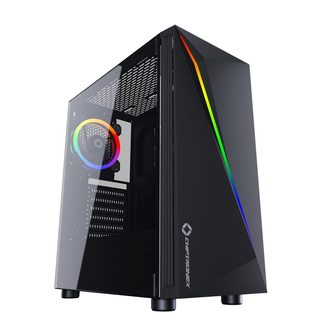 The CHIPTRONEX MX5 RGB Gaming Mid-tower is a case with the ability to hold all of your gaming components and components for everyday use. This compact design fits in any space in your room and still has the ability to go toe to toe with your friends and their cases.
This case comes with a single RGB LED strip and an LED fan. The LED strip can be synced with any of your other RGB LED strips and has a selection of colors that are controlled with the included remote.
The LED fan can also be synced with your other RGB LED fans so that they all pulse together. The front of this case has the capability to hold a 3.5″ hard disk drive and a 2.5″ SSD.
An RGB strip on the exterior of the case builds a smooth and seamless flow for added effect. Its unique motherboard compatibility allows for ATX, Micro ATX, and Mini ITX motherboards. The CHIPTRONEX MX5 RGB is a reliable mid-tower ATX gaming cabinet that offers a sleek design, a transparent look, and a multitude of features.
2. Zebronics Zeb-Cronus Premium Gaming Cabinet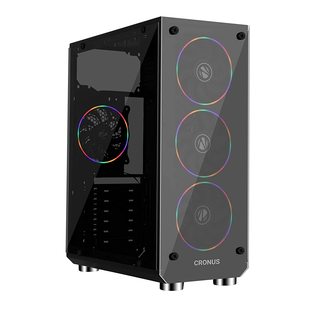 The Zeb-Cronus is a gaming cabinet that comes with a meticulously designed interior that provides sufficient space for your desktop computer, high-end graphics card, CPU cooler, and power supply.
With a solid build construction and a combination of tempered glass and a highly polished stainless steel front, the Zeb-Cronus ensures that you are able to assemble your components inside in a neat and tidy state and allows excellent airflow from the front panel to the rest of your components.
The Zeb-Cronus is a gaming cabinet that comes with support for ATX/ mATX with mirror-finish front & tempered glass front and side panel, 4 x120mm Rainbow LED double ring fans in the front and rear. The PSU is top-mounted and has an optimized design for airflow.
The top-mounted PSU design enables you to make the most out of the airflow and ventilation on the chassis.
3. Antec NX230 NX Series-Mid Tower Gaming Cabinet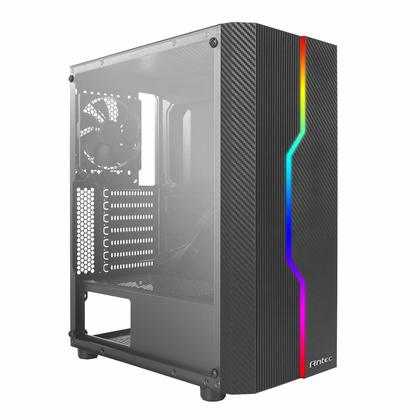 This Antec NX230 NX Series-Mid Tower Gaming Cabinet, part of the new generation of Antec cases, is designed especially for gamers. The black, mid-tower case provides you with all the advanced features you need in a competitive gaming environment.
This case has an interior layout that provides a convenient overview of the hardware and its connections. Also, the NX Series has a modular hard drive cage design that provides the ability to position the installation of hard drives for optimal airflow.
The X-shaped, steel cable organizers are placed behind the motherboard tray to keep the CPU power cable, front panel cables, and other cables out of sight and easily accessible.
This mid-tower case supports PS2 ATX power supply units, drives up to 10TB in size, and supports graphics cards up to 300 mm long. This case supports ATX, Micro ATX, and Mini ITX motherboards.
4. Chiptronex Thunderstorm X2 RGB Mid Tower ATX Cabinet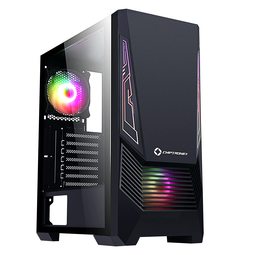 Thunderstorm X2 RGB Mid Tower Cabinet supports motherboards in ATX, Micro ATX, and Mini ITX form factor and accommodates CPU coolers with a maximum height of 155mm.
It features a 4mm edge-to-edge tempered glass side panel which gives the case a unique outlook and supports high-end graphics cards up to 410mm and CPU coolers up to 155mm.
Four 120mm RGB fans and RGB strip on front and rear, which are controllable through motherboard software and with a dedicated RGB control button on top.
It has easy access to I/O peripherals, clean cable routing, and a smart airflow design. It is a great choice for your game and entertainment system.
The case's 4mm thick edge-to-edge tempered glass on the side panel gives it a unique design and allows you to show off your build inside in a variety of ways.
5. Ant Esports ICE-200TG Mid Tower Gaming Case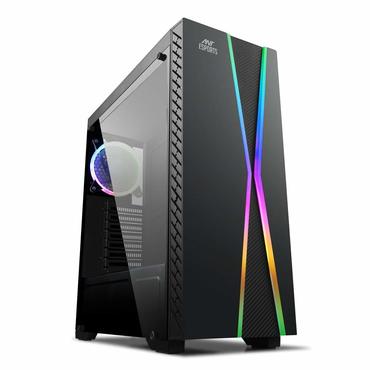 Turn heads when you go gaming with the Ant Esports ICE-200TG gaming cabinet. This stylish gaming cabinet is constructed with a glossy finish and black body.
The front panel is made of acrylic with RGB LED control buttons that enable you to control the LED colors per game.
It has perfectly-designed cable management support that allows you to organize the cords, which ensures that your game venue is neat and tidy.
Under 3000, the gaming cabinet can accommodate 2 x HDD and 2 x SSD, 1 x flashcard reader, and an ATX, MICRO-ATX, or MINI-ITX motherboard. It also features a transparent tempered glass side panel as well as an adjustable fan speed controller to keep your gaming experience cool.
It is made of an acrylic front panel and a USB 3.0 port. This RGB cabinet under 3000 can easily fit into a home with a compact design.
6. CHIPTRONEX Thunderstorm X1 Gaming RGB Case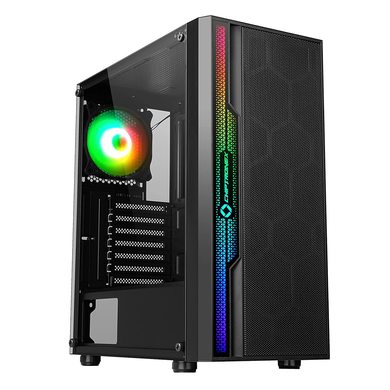 Make your system shine like a thunderstorm with the Chiptronex Thunderstorm X1 Mid Tower ATX Gaming Cabinet. RGB lighting with a pre-installed 120mm ARGB fan and ARGB lighting strip to match your components.
It comes with a front RGB strip and a rear one with a pre-installed fan. It supports ATX, Micro ATX, and Mini ITX motherboards. It comes with a pre-installed 120mm ARGB fan and ARGB lighting strip to match your components.
This case has one 120 mm RGB fan on the back and two 120 mm and 140 mm fans on the front. It can also accommodate two 3.5-inch hard drives and two 2.5-inch solid-state drives. This case features 4mm thick edge-to-edge tempered glass on the side panel. The case supports ATX, Micro ATX, and Mini ITX motherboards.
This case comes with two USB 3.0, two USB 2.0, an RGB control button, and HD audio on top. It also comes with R485 support.
7. Montech X1 Black ATX Mid-Tower Case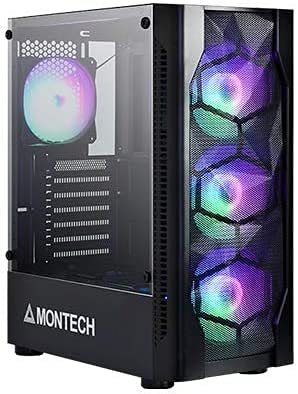 The Montech X1 Black ATX Mid-Tower Case is a modern system that comes equipped for your computer needs. The flexible layout maximizes the space utilization, airflow, and drive configurations.
The ATX motherboard mount offers a large area for system builds. The stylish and transparent look is showcased with the tempered glass side panel.
The ATX mid-case comes outfitted with RGB fans that not only enhance the appearance of your add-on cards but also keep your system cool with enhanced airflow.
The standard black color scheme gives off a simple look. The Montech X1 Black ATX Mid-Tower Case is a mid-tower case that will give you the build quality and performance that you want.
The case comes with four pre-installed RGB fans and two RGB LED strips, which make the case look awesome and cool.
Conclusion
This article discusses the Top RGB Gaming Cabinets Under 3000 INR in India for your PC setup. With RGB, you can have different color schemes for different moments or moods.
Some of the RGB cabinets can be controlled by your phone, so you can change the color of the cabinet whenever you want.
So, if our article was helpful for you share it with your friends and family and comment down if you have any questions.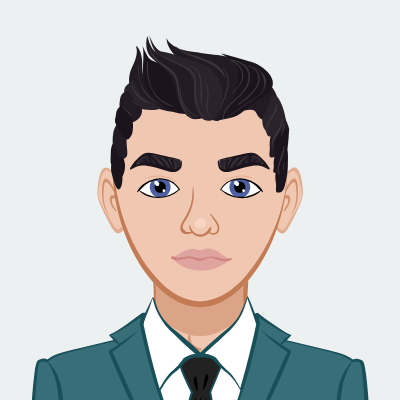 Hello everyone, I am currently an engineering student who loves to write about the latest technology, gadgets, and reviews.