In this article, we will show you the best monitors under 8000 rs for gaming in India.
The best monitor is the one that offers the best value for your money. If you're going for the best in this price range, you'll have to compromise on a few features.
But what's important is that you get the best of what you can at this price point.
Being a responsible buyer, you'll want to invest your money in a device that will not only last you long but serve you well while doing so.
Buying the best monitor under 8000 rs in India is not as simple a job as it seems. There are a lot of different things that one needs to look at when they are buying a monitor. Sometimes it's even more complicated than buying a TV.
Choosing a good monitor is a tricky task. The primary factor is definitely your budget. But the budget does not always determine how good a monitor is.
Here is the quick list of best monitors under 8000 rs in India-
This blog will attempt to make things easier for you by giving you a shortlist of the things that you need to look at when you are buying a monitor
While to an average consumer the display resolution may be the most important aspect of a monitor. The other display-related aspects like response time, refresh rate, and viewing angles also play a huge role in the overall experience.
1. AOC e970swn 18.5-Inch LED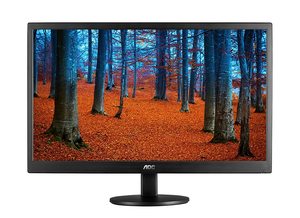 The AOC E970SWN 18.5″ LED monitor is an ultra-slim widescreen display with a sleek black textured finish. The E970SWN features a 5ms dynamic response for swift image changes and crisp, blur-free images.
The 16:9 aspect ratio makes viewing your favorite movies and games a pleasure, while 1366 x 768 maximum resolution will bring to life the latest games and applications. With a 16.7Million color support, you'll be able to enjoy the detail and depth of your media.
Connect to your PC or laptop using the VGA port, or make use of the two conveniently located USB ports. The E970SWN comes equipped with a tiltable stand, so you can adjust the screen to your ideal viewing angle.
With a trendy black texturized finish, this widescreen model boasts a 5ms pixel response time for crisp, blur-free images as you play your favorite games.
Led-blacklist monitor
5ms response time
Wall mountable
Tn panel
2. Dell D1918H 18.5-inch Monitor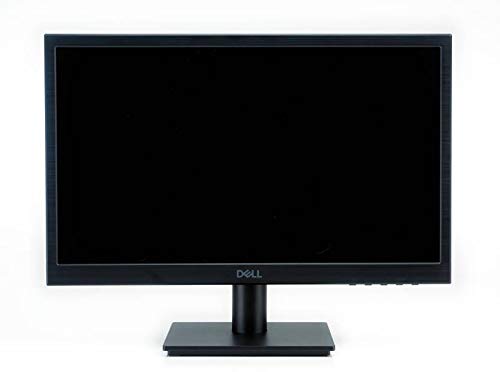 Dell's D1918H is an impressive LCD monitor that makes your everyday computing tasks more enjoyable. This flicker-free screen is optimized for comfort and allows for easy reading of the text.
Featuring Dell's ComfortView feature, it provides an optimal viewing experience. If you can't work comfortably, you can't work well.
The D1918H's flicker-free screen and ComfortView feature are designed to reduce eye strain and provide a more comfortable viewing experience.
The Dell D1918H has a simple design with a non-glare screen. It will serve all your needs in a basic monitor and is perfect for a second computer.
It features an 18.5-inch screen with a display of 60Hz refresh rate. This monitor support connectivity with a VGA port. It is a great fit for your home office or student computer.
90-degree viewing angles
60 Hz refresh rate
5ms response time
Flicker-free screen
3. Acer Aopen 49.53 cm (19.5-inch) monitor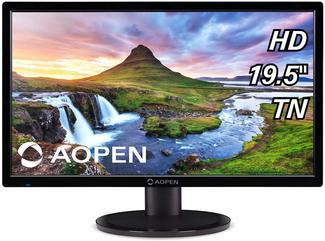 The Acer Aopen 49.53 cm (19.5-inch) HD Backlit LED LCD Monitor delivers crisp and vibrant imagery and color with its nice 1366 x 768 resolution at a 60 Hz refresh rate.
This LED monitor features 0.264mm dot pitch, 5 ms response time, and impressive 200 nits brightness, which boast a hard-working and efficient intrinsic support.
This 19.5-inch LED monitor sports two video input options, including VGA and HDMI to provide a relaxed user experience.
The monitor's slim shell, and ergonomic design house a full-function remote control with Acer eColor management software to fine-tune your viewing experience, which is completed with a VESA wall mount-ready design.
The flicker-free screen is designed to alleviate eye strain and make watching more enjoyable.
LED monitor with HD 1366 X768 Resolution
Come with HDMI & VGA ports
200 nits brightness and  5 MS response time
1366×768 at 60Hz refresh rate
Comes with VESA wall mount ready
4. LG 19-inch HD Ready Monitor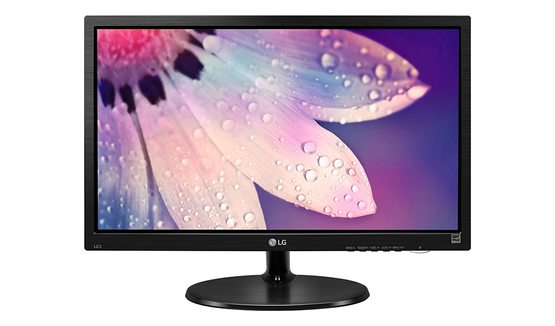 Enhance the experience of computing with this LG 19-inch HD Ready Monitor.
LG's 19-inch (46.99 cm) HD Ready Monitor has a screen size of 19 inches (46.99 cm) and an HD Ready (1366 X 768) TN Panel, for a spacious viewing experience. It comes with a response time of 5 ms for a lag-free experience, and the power consumption is 58 watts.
The dimensions of the monitor are set (with stand): 44.3 x 17 x 35.8 cm and without stand: 44.3 x 6.1 x 26.7 cm. The aspect ratio is 16:9 and the response time is 5 ms.
With a display resolution of 1366 X 768, this monitor helps to increase the desktop area and provides stunning images on the screen. It can display millions of colors and is compatible with Mac.
The maximum resolution of this monitor is 1366 X 768 and the refresh rate is 60 Hz. It has a contrast ratio of 1,000: 1 and a brightness of 200 cd/m².
19 inch Hd ready display
Both VGA and HDMI port
60Hz refresh rate
Anti-glare screen
5ms response time
5. LG 54.6 cm (21.5″) Full HD IPS Monitor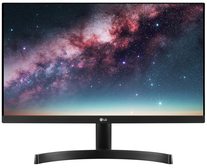 This LG's 21.5″ Full HD IPS Monitor, comes with a screen size of 21.5″ and a Full HD screen resolution of 1920 x 1080. The monitor has a 3 side borderless slim design, making it perfect for the 16:9 widescreen resolution.
The monitor comes with a 178/178 viewing angle that is perfect for different modes of use. The monitor comes with Custom, Text, Photo, Cinema, and Game picture modes. The monitor also includes an integrated speaker and an HDMI port.
This display has an enhanced gaming performance with Radeon FreeSync, which reduces input lag, giving gamers the upper hand in competitive gaming.
Other gaming features such as Black Stabilizer and Dynamic Action Sync are provided, helping gamers get the upper hand by providing more visibility in dark areas and continuous action sequences.
See more than ever with a Color Calibrated screen for accurate Color Reproduction, the Dynamic Action Sync for reduced input lag, and a Black Stabilizer, which allows you to see deeper into the shadows.
With 5ms Response Time and HDMI x2, D-Sub, and Headphone Out, this monitor is ideal for use with a computer, laptop, Xbox, and PS4, to give you the most immersive gaming experience possible.
21:5″ Full HD and IPS Monitor
3 Side Borderless Slim Design
Color Calibrated Screen
Connectivity: HDMI x 2, D-Sub
Headphone Out port
Radeon Freesync
Conclusion
We hope you enjoyed our article on the best monitors under 8000 in India. With this knowledge, we know that you can make the most of your investment and purchase a top-notch monitor for your home or office.
Please let us know if you are having any issues with the list, or if you have any suggestions regarding it. You can leave a comment below with your feedback.
Thank you for reading our post, we hope this article was helpful!
Also, check our other articles-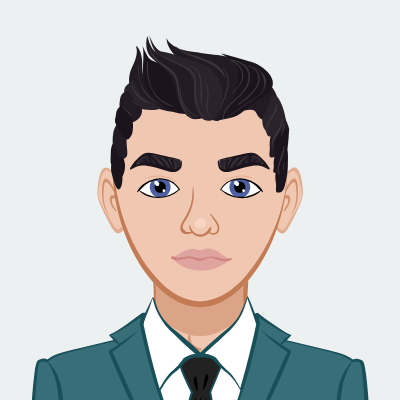 Hello everyone, I am currently an engineering student who loves to write about the latest technology, gadgets, and reviews.